Articles & News
In Conversation with the IMPA|SAVErs
11 July 2023
AMOS is one of the earliest pledgers to join IMPA SAVE, as we have always taken sustainable development as its core value and is committed to developing recyclable and energy-saving technologies and products to contribute to the realization of sustainable development.

In a recent interview with IMPA - The International Marine Purchasing Association Magazine (Supply Chain and Sustainability Magazine), Mr. Ronald Broer, Senior Vice President of Marine at AMOS Group, along with other industry experts: Mr. Martin MacMahon, Environmental Compliance Manager of BSM, and Ms. Yasemin Gurul, Global Director of Deckhouse Ship Supply, shared why AMOS joined IMPA's most ambitious sustainability initiative to date, how AMOS progresses on executing its sustainability strategy throughout its day-to-day operations, and how important sustainability development is to companies and individuals.
Read the full interview at here.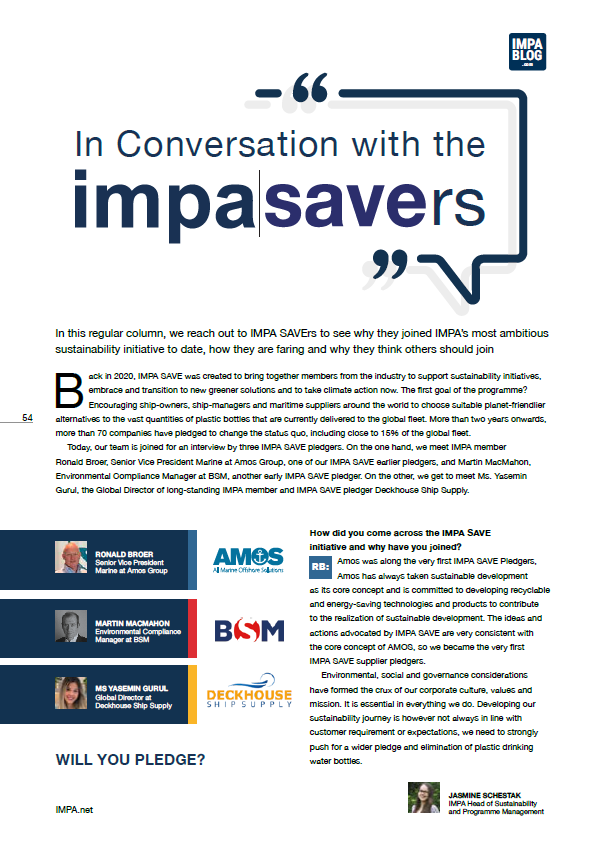 Back
© AMOS Group Limited. All rights reserved.
Pleases tilt your device view in portrait mode for better view